Prophylaxis (Getting teeth cleaned)
Our professionally trained dental hygienists do not simply clean your teeth. One of the first objectives of a dental prophylaxis is to remove all the tartar from the teeth.Tartar is a hard, yellowish deposit on teeth. It is composed of mineral salts, food, and other debris that has hardened over time. Tartar cannot be brushed off. It has a rough surface, attracting more debris and food particles, causing a repeating cycle of tartar formation and buildup. Our office is equipped with state-of-the-art ultrasonics scalers which permit the removal of tartar in a gentle and atraumatic way.
Obturations (Fillings)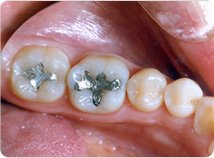 A dental obturation may be defined as the removal of decay or of a defective filling and a replacement of tooth structure by a biocompatible material. Amalgam or silver fillings are very rarely used in our office. We prefer to use composite (white fillings). Composite has the advantage of being able to be bonded to the tooth and therefore has less chances of falling out. Advances in dental materials have brought about new dental composites which last much longer than those of the past.